Du 25 au 27 juin 2012, le Science and Democracy Network (SDN) de l'université d'Harvard a tenu sa onzième conférence annuelle à Paris. L'IFRIS a eu l'honneur d'accueillir cette conférence dans les locaux du CNAM.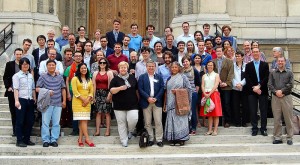 Session 1 – Europeanization in the move
Brice Laurent (Centre de Sociologie de l'Innovation – Mines-ParisTech, France)
Making European objects, constructing the European space of "responsible innovation"
Emanuel Bertrand (Centre Alexandre Koyré, France)
The participation of organized civil society as seen by the European Commission
Henri Boullier (LATTS / Paris-Est University and IFRIS, France) et Pierre-Benoît Joly (INRA SenS and IFRIS, France)
Epistemic Subsidiarity and European Integration: Lessons from European governance of GMOs and chemicals
Session 2 – The politics of nature
Les Levidow (Open University, United Kingdom) et TheoPapaioannou (Open University, United Kingdom)
Promoting 'sustainable bioenergy' through socio-technical imaginaries: UK state bodies shaping and legitimizing technoscientific pathways
James Palmer (University of Cambridge, United Kingdom)
Identifying and interpreting policy-relevant knowledge in the face of wicked problems: The case of biofuels and indirect land-use change in Europe
Session 3 – Biopolicies, bioidentities
ShaiLavi (Tel Aviv University, Israel) et SkyGross (Tel Aviv University, Israel)
Kosher Brain Death: A Clash of Medical, Lay and Rabbinic Optics in Israel
Melike Sahinol (University of Duisburg-Essen, Germany) et Emre Sünter (Middle East Technical University, Turkey)
Shifting science and technology by changing conceptions of religion and science in the case of 'tüp bebek' ('tube baby') »
Sang-Hyun Kim (Hanyang University, South Korea)
The Politics of Bioethics in South Korea
Alessandro Blasimme (Inserm / Université Paul Sabatier Toulouse III, France)
Borders of validity: contesting epistemic and regulatory authority in stem cell innovation
Panel discussion – STS and Law
Rafael Encinas de Munagorri (Université de Nantes, France), Stéphanie Lacour (CECOJI, CNRS, France) et Olivier Leclerc (Université Paris Ouest-Nanterre La Défense, France)
« Legal Scholarship and Science and Democracy Network: How to Contribute? »
Session 4 – Science, Technology and their publics
SujathaRaman (University of Nottingham, United Kingdom)
Making Science Public
Young-GyungPaik (National Open University, South Korea)
Changing Regimes of Public Health and the Politics of Medical Knowledge in Contemporary South Korean HPV Vaccination Campaigns: A Challenge to Social and Health Activism
HelenPallett (University of East Anglia, United Kingdom)
A decade of learning about public participation and climate change: institutionalising reflexivity?
Mads Dahl Gjefsen (University of Oslo, Norway)
Establishing sociotechnical coal-collectives in Europe
Session 5 – Scientific Expertise in crisis
Hideyuki Hirakawa (Osaka University, Japan) et Masashi Shirabe (Tokyo Institute of technology, Japan) (Voir la vidéo)
Double marginalization of Science and Democracy: Politics in the Risk Discourse on the Radioactive Risks in Japan
Javiera Barandiaran (University of California Berkeley, USA) et Manuel Tironi (Pontifical Catholic University, Chile)
Expertise in crisis: the politics of choosing energy sources in Chile
Christophe Bonneuil (Centre Alexandre Koyré, France), Jean Foyer (Institut des sciences de la communication du CNRS, France) et BrianWynne (Lancaster University, United Kingdom)
Molecular imperialism: the cultural politics of seeing and not seeing transgenes in Mexico
Session 6 – Institutions and Knowledge
JennyAndersson (Sciences Po, France) et Anne-GreetKeizer (Scientific Council for Government Policy, Netherlands)
Governing the future. Institutional responses to problems of long term development in the Netherlands and Sweden
Alfred Moore (University College Cork, Ireland)
Epistemic disobedience
Sebastian Pfotenhauser (Massachusetts Institute of Technology, USA)
Understanding "best-practice transfer:" MIT's international partnerships and the universalist assumptions of innovation
Adrian Ely (SPRU – Science and Technology Policy Research, United Kingdom)
Backward-mapping: a tool for comparing civic epistemologies in multi-level studies of regulatory harmonisation?
Special session on Digital Platform for STS
Marc Barbier (INRA SenS and IFRIS, France) et Jean-Philippe Cointet (INRA SenS and IFRIS, France)
Reconstruction of Socio-Semantic Dynamics in Sciences-Society Networks: Methodology and Epistemology of large textual corpuses analysis
Public Event: Science, Law and Democracy
Marie-Angèle Hermitte(CNRS – EHESS)
Sheila Jasanoff  (Harvard University – Responsible for the Science, Technology and Society Programme)